Alimentazione di commutazione singola uscita UL Nes-200-36
Descrizione del prodotto
Modello N .: MWNES-25-24 Garanzia:> 2 anni Tensione di ingresso: 15V Modalità di avviamento: Self-excited Switching Power Supply Alimentazione: Sistema di alimentazione: Terminal Power Distribution Equipment Modulazione: PFAW Marca: Omwo Specifiche: 159 * 98 * 38mm HS Codice: 8504401990 Tipo di uscita: Singola Potenza di uscita: 1 - 50W Modalità di connessione: Serie Switching Tensione di alimentazione Tensione di regolazione: Modulo di modulazione di frequenza Trasmissione di energia: certificazione di trasmissione bidirezionale: CE, UL, RoHS, ISO, CCC, CB, : OMWO Origine: Zhejiang Caratteristiche:
· Campo di ingresso CA selezionabile tramite interruttore
· Protezioni: Cortocircuito / Sovraccarico / Sovraccarico / Sovratemperatura
· Raffreddamento per convezione dell'aria libera
· Resistere a 300 Volt di sovratensione per 5 secondi
· Circuito di limitazione della corrente costante incorporata
· Test di bruciatura al 100% a pieno carico
· Indicatore LED per accensione
· Frequenza di commutazione fissa a 90KHz
· Basso costo e alta affidabilità
· 2 anni di garanzia
MODEL

NES-200-36

OUTPUT

DC VOLTAGE

36V

RATED CURRENT

5.9A

CURRENT

 RANGE

0~5.9A

RATED POWER

212.4W

RIPPLE & NOISE (max.) Note.2

240mVp-p

VOLTAGE

 ADJ. RANGE

32~ 40V

VOLTAGE TOLERANCE Note.3

±1.0%

LINE REGULATION

±0.5%

LOAD REGULATION

±0.5%

SETUP, RISE TIME

1000ms, 50ms/230VAC 1000ms, 50ms/115VAC at full load

HOLD UP TIME (Typ.)

20ms/230VAC   16 ms /115VAC at full load

INPUT

VOLTAGE

 RANGE

   Note.4

90 ~ 132VAC/180~264VAC by switch        254~370VDC

FREQUENCY

 RANGE

47 ~ 63Hz

EFFICIENCY (Typ.)

89%

AC CURRENT (Typ.)

4.5A / 115VAC     2.5A / 230VAC

INRUSH CURRENT(Typ.)

40A/115VAC   55A / 230VAC

LEAKAGE CURRENT

Less than 3.5mA / 240VAC

PROTECTION

OVER LOAD

105 ~ 135% rated output power

Protection type: Constant current limiting, recovers




automatically after fault condition is removed

OVER VOLTAGE

41.4~ 46.8V

Protection type : Shut down o/p voltage, re-power on to recover

OVER TEMPERATURE

95°C±5°C (3.3V); 100°C±5°C(5V); 90°C±5°C(7.5V);




85°C ±5°C(12~24V);80°C ±5°C(27~36V)




75°C ±5°C(48V) (TSW1) Detect on case

Protection type : Shut down o/p voltage, recovers




automatically after temperature goes down

ENVIRONMENT

WORKING TEMP.

-20 ~ +50°C (Refer to output load derating curve)

WORKING HUMIDITY

20 ~ 90% RH non-condensing

STORAGE TEMP., HUMIDITY

-20 ~ +85°C , 10 ~ 95% RH

TEMP. COEFFICIENT

±0.03%/°C (0~50°C)

VIBRATION

10 ~ 500Hz, 3G 10min./1cycle, 60min. each along X, Y, Z axes

SAFETY & EMC

SAFETY STANDARDS

UL60950-1 approved

WITHSTAND VOLTAGE

I/P-O/P:3KVAC   I/P-FG:1.5KVAC     O/P-FG:0.5KVAC

ISOLATION RESISTANCE

I/P-O/P, I/P-FG, O/P-FG:100M Ohms / 500VDC / 25°C/ 70% RH

OTHERS

MTBF

271.9K hrs min. MIL-HDBK-217F (25°C )

DIMENSION

215*115*50mm (L*W*H)

PACKING

0.93Kg; 12pcs/12Kg/0.92CUFT

NOTE

1. All parameters NOT specially mentioned are measured at 230VAC input, rated




load and 25°C of ambient temperature.

2. Ripple & noise are measured at 20MHz of bandwidth by using a 12" twisted




pair-wire terminated with a 0.1uf & 47uf parallel capacitor.

3. Tolerance: includes set up tolerance, line regulation and load regulation.

4. Please contact positive pole of input voltage with mark "L" of terminal block,




connect negative pole of input voltage with mark "N" of terminal block, using DC voltage for input voltage.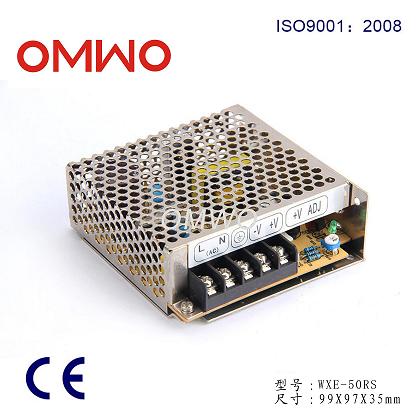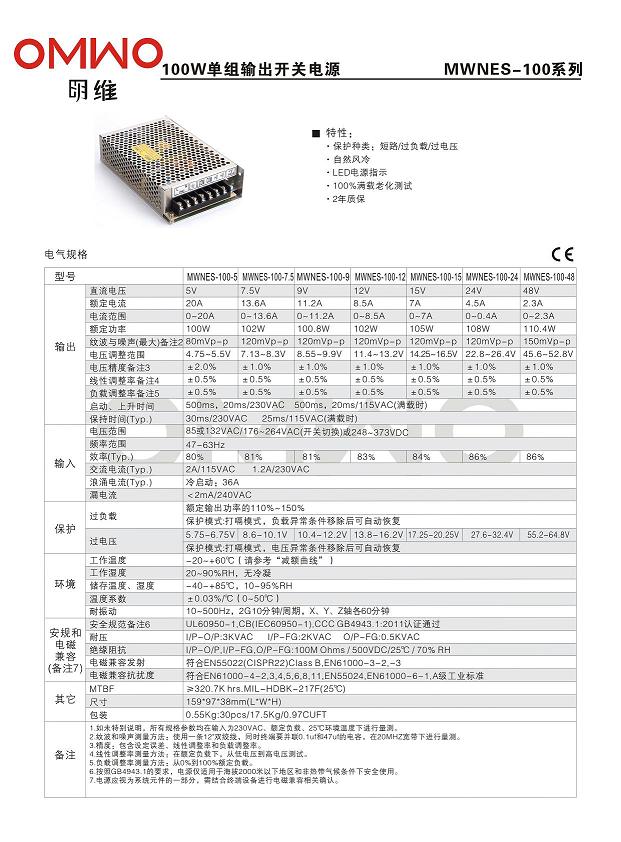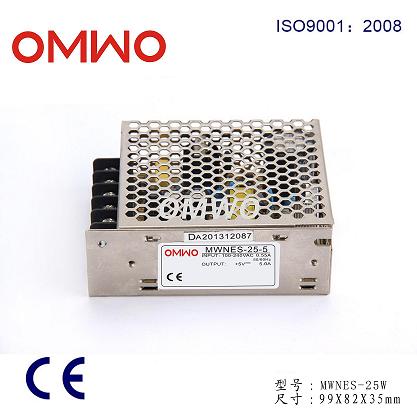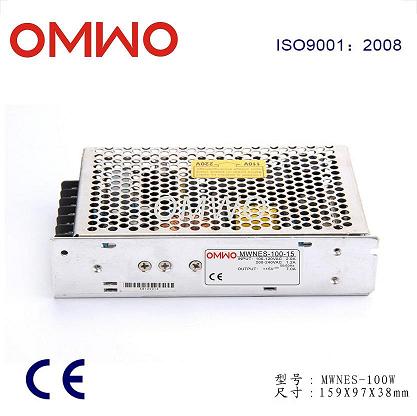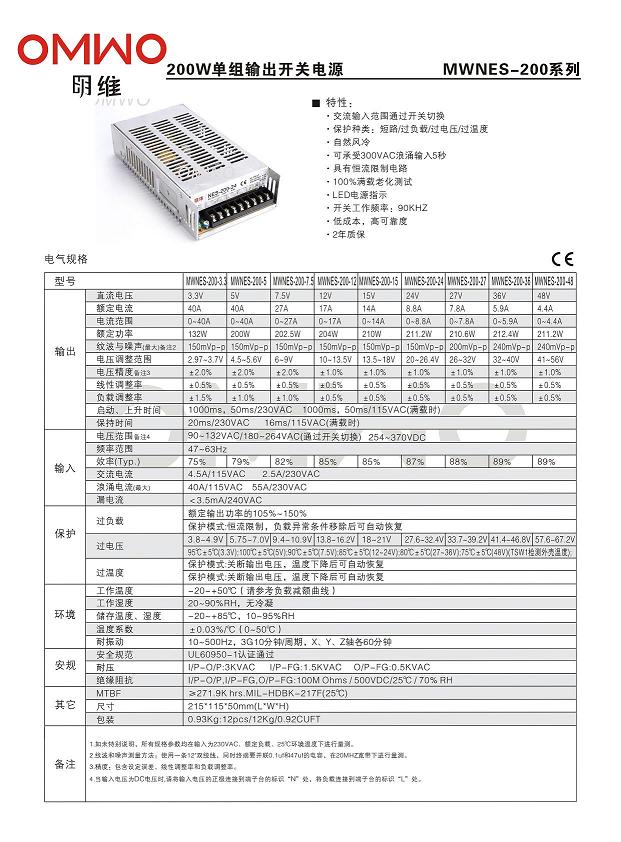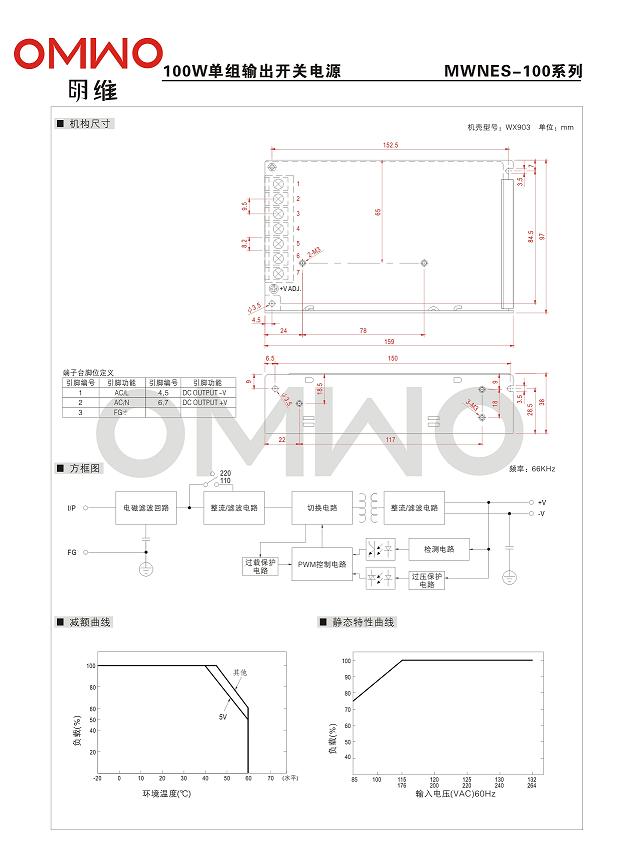 Elenco prodotti : Alimentazione di commutazione singola uscita